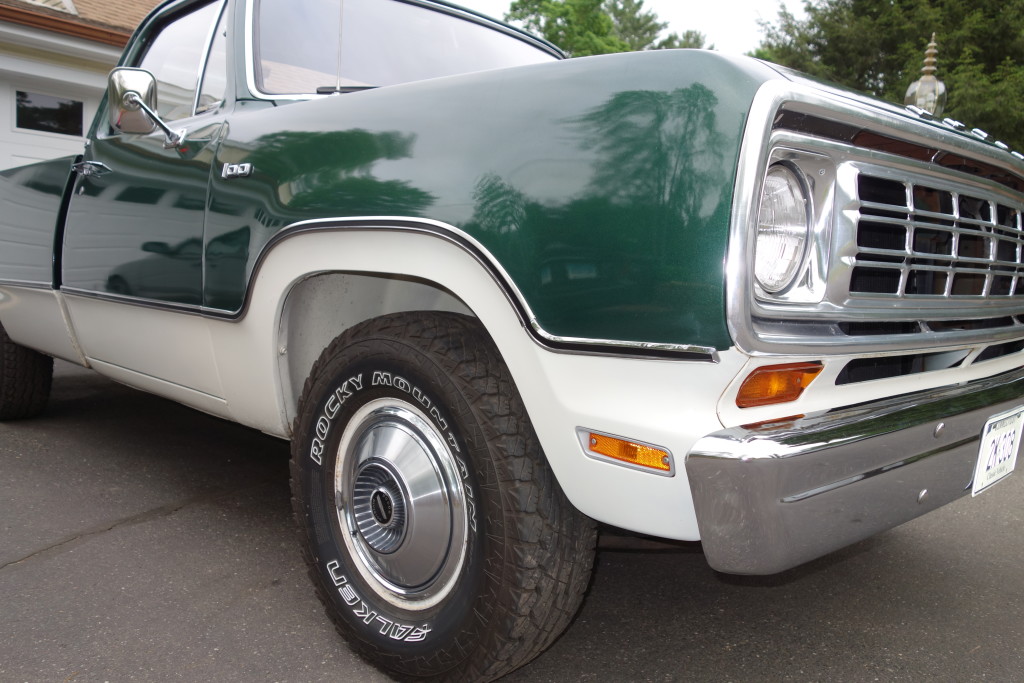 ---
This Dodge D100 was a real surprise; the paint was all original. A friend of mine moved out west for some time and happened to stumble upon this truck locked away in a garage somewhere, so he brought it home with him and decided to get it cleaned up before swapping in a Cummins 4BT. The truck received an ONR wash, two thick application of Meguiar's #7 and a light polishing with HD Speed, LC black pads & the Rupes 21. Special attention was paid to edges on the hood and some other panels, as the paint showed signs of thinning (excessive gold coloring near the edges) and had to be delicately polished.
---
Before:
The white single stage paint of the roof showed some streaking/staining:
LED lighting showed moderate marring and oxidation everywhere in the paint:
---
During:
Here Meguiars #7 glaze is being allowed to soak into the single stage paint, replenishing oils lost over years of storage:
Note the lack of oxidation and how the paint's metallic flake pops. Some deeper defects remained but weren't worth addressing given the desire to preserve the integrity of the original paint.
---
After:
In some of these pictures the wheels and tires had yet to be done:
The interior received a light cleaning and protection via 1Z Einsett Cockpit Premium and various boar's hair brushes and microfiber towels: