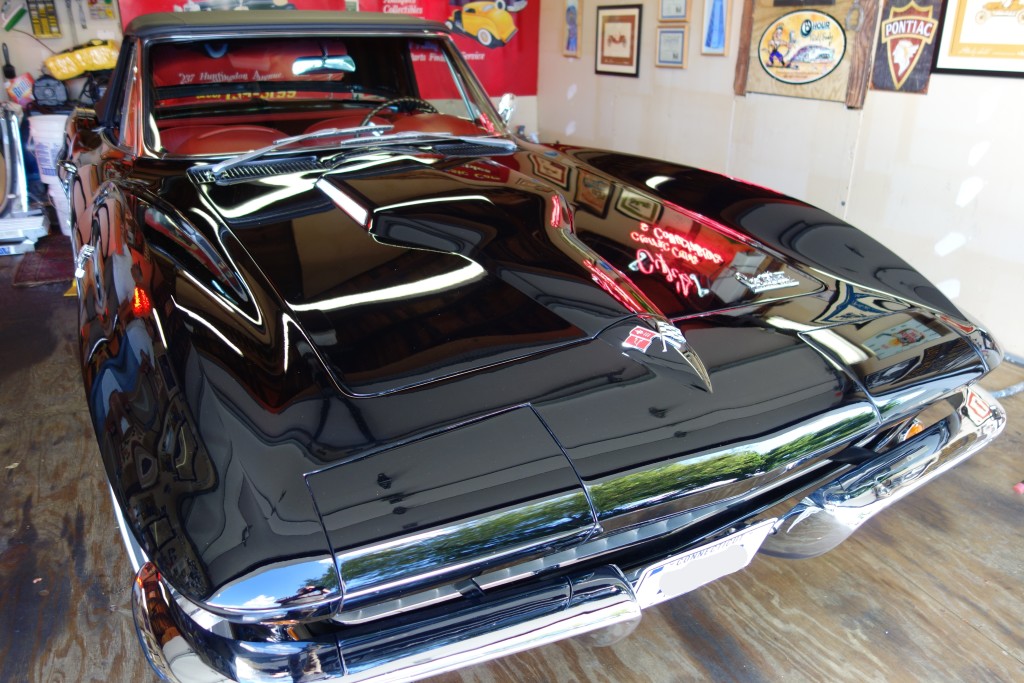 ---
The owner of this 1966 Corvette 427 Turbo-Jet has had many antique cars over the years, but this one he developed a particular interest in and decided to have it properly detailed before adding it to his collection. The 27 year old lacquer paint job shined well in dim lighting, but a closer look with better illumination showed significant marring that really detracted from the car's appearance. After an inspection that revealed some thinned edges from over-buffing, we decided to go with a one step correction process to correct about 80% of the paint's defects while preserving as much paint thickness as possible.
---
Before:
Here you can see the heavy marring under the overhead fluorescent lights:
LED lighting showed the true extent of the paint defects:
Some panel edges were thinned from previous detailers aggressively polishing the paint:
---
During:
Here one of multiple thick coats of Meguiar's #7 was being applied to the paint, replenishing oils need to restore the color and keep the paint healthy for years to come:
---
After:
The paint wasn't perfect, but given the age (27 years) and lack of thickness, the owner and I were very happy to see an 80%+ correction rate with one polishing step. Under any sort of lighting the paint really popped as compared to the swirled mess that was evident in the before shots above. In addition to this, the paint was full of vital oils from the Meguiar's #7 which will protect it from cracking and further degradation in the future.
Under LED lighting it was apparent that a large percentage of the marring was removed. Though some of the deeper defects could have been removed with more polishing, I decided against it in favor of preserving the 27 year old paint's thickness and health in the future.