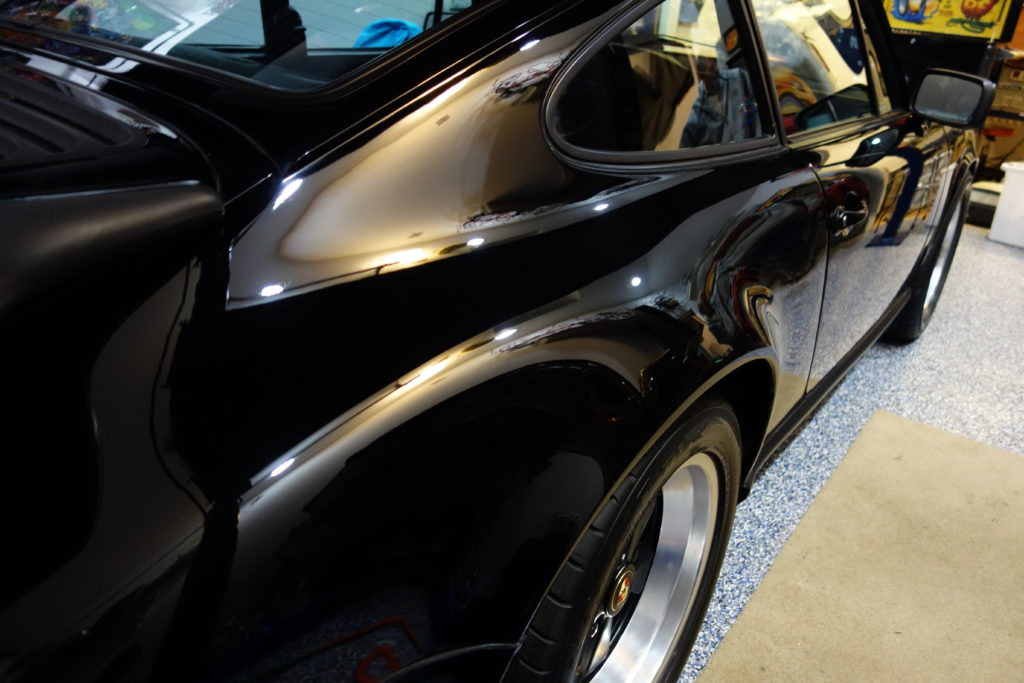 ---
This 1987 Porsche 911 was completely repainted in 1994, and since then had been improperly maintained, which was readily apparent based on the moderate marring, overspray and random isolated deep scratches which covered the paintwork. Given the relatively soft paint and intended use as a driver (rather than a show car), we decided upon a one-step paint correction process to remove 80%+ of the paint's defects, vastly improving shine, depth and clarity. Following this the car would be coated with 22ple's VX-1 Pro coating, which would protect the paintwork for two years while ensuring a high gloss and minimal maintenance.
Before beginning work:
Under LED lighting it was easy to see that the paint was covered in marring from years of improper washes, wipe-downs, waxing, etc. This type of damage greatly reduces the paint's ability to reflect light properly, and is a real eyesore on sunny days:

Lower down on this same fender were deeper vertical scratches which would later be removed via polishing:
The marring was evident on the hood and other body panels as well:
The top of the front bumper and the areas surrounding the hood showed some deeper scratches amidst the general marring of the paint:
To start the process the paintwork was cleaned and decontaminated. Following this, many different pad & polish combinations were tested, starting from the least aggressive method possible, to determine what combination would yield maximum defect removal while still leaving a refined finish. The result of this experimentation was a mixture of Meguiar's D300 and HD Polish applied via Lake Country black foam finishing pads with the Rupes 21 and 75E long-stroke polishers. This combination removed an impressive amount of defects while leaving the finish nearly perfectly free of micro-marring. To ensure maximum shine and a uniform finish, a quick refining step would be performed using Lake Country black finishing pads and CarPro Essence. Though this was a deviation from the originally planned one-step correction, it was necessary on a moderately soft finish such as this, and was preferable to a more intensive two-step correction process given the owner's goals for the car.
The result of the initial polishing step can be seen here, with the passenger door on the right side of the photo representing the corrected side, and the quarter panel on the left of the photo representing the uncorrected paint:
After:
After correction and application of VX-1 Pro the paint glistened and showed a nearly 90% correction rate:
After correction it became apparent that the paint contained a small amount of gold metallic flake which was previously hidden by the marring:
The hood corrected well but was still peppered with tiny pockmarks from road debris: